Everyone knows how important it is to get good quality sleep every night. But as you get older, sleep becomes seems to become more of a luxury than a necessity. It doesn't have to be that way! The first step is to make sure you avoid bad mattresses & beds which sag and cause back pain. The next step is of course to find a top rated mattress or bed, to see the best CLICK HERE.
If you are buying your bed from an online store, be informed that you may have to pay certain fees to have it returned or exchanged. Shopping for a mattress requires diligence, patience and resourcefulness. You are basically buying a mattress that should conform to your individual sleeping preferences. It must be able to accommodate your personal nuances when you go to sleep.
Online reviews and guidelines like the one we just provided will give you basic information and valuable tips on what to look for when trying out mattresses. It will help you read through some of the fluff the salesperson may tell you about their product.
If that happens, simply smile, say "Thank you" then walk away. There are other sellers out there and with some savvy negotiation tactics, you might get an even better discount. You should consider online shopping to avoid pressure selling from salespeople.
We hope we were able to enlighten you on how to choose the best mattress to fall asleep on. Feel free to go back to this article for a quick refresher course before you do shopping for a mattress.
10 Worst Rated Mattress Types to Avoid
When looking around for the best mattress, it also pays to know which types to avoid. With so many brands and models to choose from, sorting out the wheat from chaff may seem like a daunting task. We went through multiple online review sites to make a list of the 10 worst rated mattress types to avoid.
In this section, we will not be naming brands. However we have identified the qualities that you should watch out for when comparing mattresses.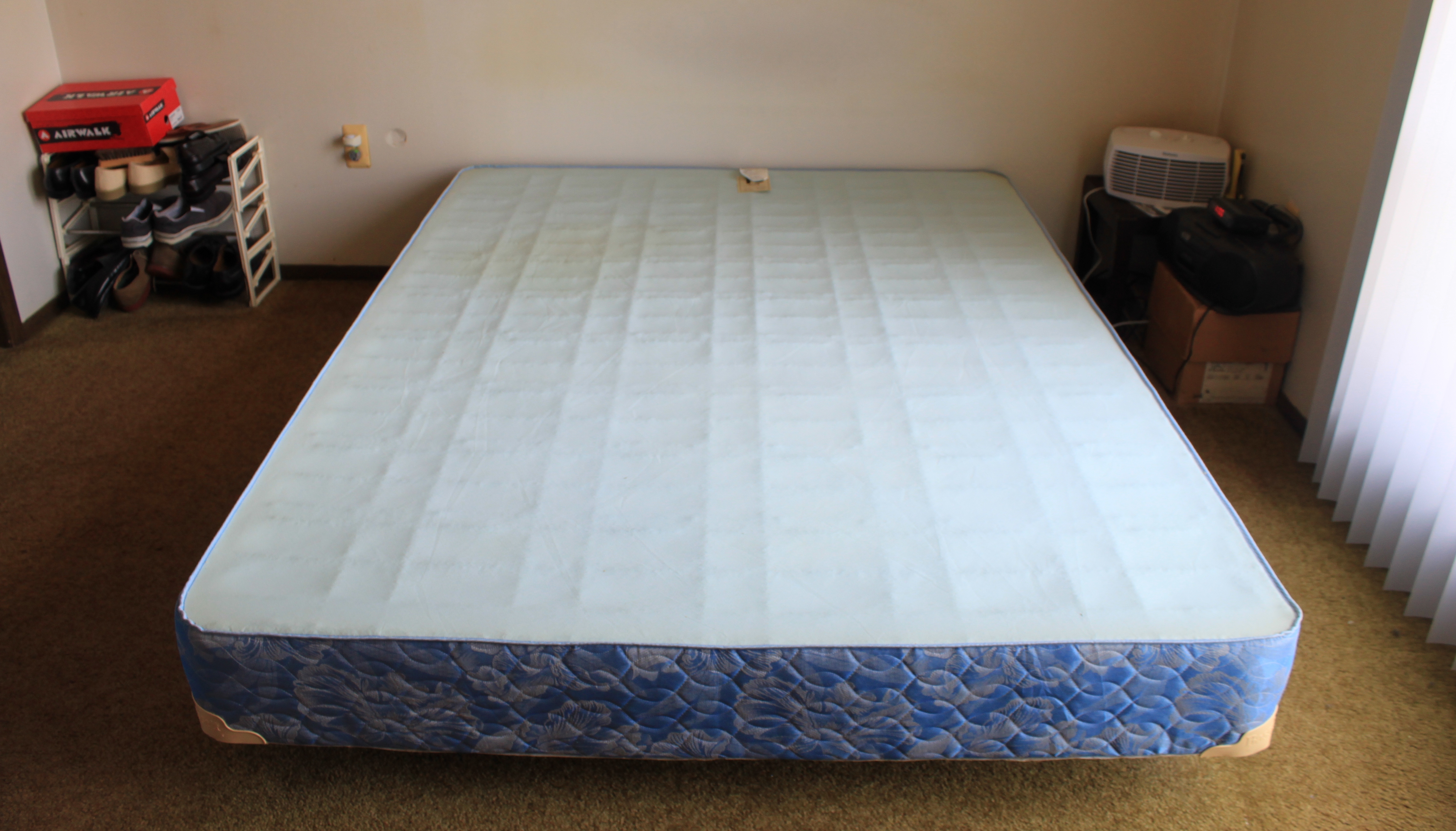 Promotional Mattresses
You often see retailers putting out promotional mattresses during popular holidays. The purpose is to get your attention as these are usually heavily discounted.
But remember the saying, "You get what you pay for". Retailers still have to make money, so expect them to have good margins on these items as these are probably made of lower quality materials.
Because they are new on the market, you will not be able to find online reviews on these products.
Extremely Affordable Adjustable Beds
If you want a good night's sleep, you should be ready to spend for it. Of course you should have a budget but it may not be a good idea to prioritize price over quality.
You can find adjustable beds that are priced at $500 and below. Yes, these seem like a good deal and may even give you a few nights or restful sleep. So enjoy those moments while they last because these extremely affordable beds surely won't!
The reason why these beds are priced much lower than other brands is because they are most likely made of poor quality materials. Another red flag to watch out for is if the product does not come with a warranty.
Mattresses That are Too Thin
If you tend to sleep on your side or if you are overweight, you would do yourself a favour by avoiding mattresses that are too thin. Side sleepers need at least 3" of cushion while those who weigh 250 to over 300 pounds should look for models that offer 10" to 14" thickness.
You need thickness to give you support and a level of comfortable cushion against the coils. Thin mattresses lack the durability to consistently place your body in the right position when you are sleeping. Chances are you will wake up with aches and pains in your lower back, neck and shoulders.
Hot or Constrictive Memory Foam
Memory foam mattresses tend to be more expensive yet more popular than innerspring types. They usually get higher favourable ratings due to their durability but complaints arise on heat retention and difficulty of movement.
This is because these beds in question use several layers of high density memory foam. Some go over five pounds of memory foam which are also more temperature sensitive.
By comparison, gel infused memory foam are less temperature sensitive, feel cooler and fewer complaints on heat retention. Another option would be plant-based memory foam which are reportedly 25% cooler than other types and have the lowest number of complaints regarding heat retention.
Mattresses That Use Low Density Foam
A bed is supposed to give you comfort not lower back pain. But that is exactly what you will get if you buy a mattress that uses low density foam. Watch out for memory foam beds with densities below 3.5 pounds and poly foam beds that offer lower than 1.4 pounds.
They will entice you because these types of mattresses are priced attractively. However if you are looking for a mattress that will not be used frequently like for a guest room, then you can take the chance especially if you have a limited budget.
Heavier people should clearly sidestep this type of mattress and look for one that is denser.
Innerspring Beds with Substandard Motion Isolation
If you share your bed with someone, skip past innerspring beds with poor quality motion isolation. This is especially true if your partner is the type who tosses and turns frequently in his or her sleep.
Lack of motion isolation means frequent movement can cascade throughout the entire bed and rouse your partner from sleep.
Avoid mattresses that are made with bonnell and continuous coils. Instead focus on beds packed with memory foam or latex layers.
Beds With Limited to No Warranty
A good sign of a respected manufacturer is if the product is covered by a warranty. You can view a warranty as a "seal of quality". In effect, the manufacturer is willing to back up its claims on the quality of the product.
Usually the life span of a mattress is a fraction of the length of a warranty. For example, a mattress than comes with a 5-year warranty corresponds to a product with an expected life span of 4.8 years.
You should be suspicious right away of products that don't come with a warranty. If it does come with one, make sure you clarify existing conditions. For example, some warranties may strictly specify that to qualify the depth of mattress sag should exceed one inch.
Too Soft or Too Firm for Its Own Good
A bed that is too soft will give you back and neck pains. A bed that is too firm will not be comfortable. Don't get sold on showroom beds because these can grow soft over time.
The type of bed you need will depend on many factors. If you tend to sleep on your back, look for medium firm beds. If you're a side sleeper, medium to plush beds might work for you. And if you're a stomach sleeper, a firmer bed might send you dreamland faster.
You should also consider pre-existing conditions. If you have chronic back pain, a medium firm bed should offer you some measure of relief. If you are heavy set, a medium firm to firmer bed should give you more comfort and durability.
Overpriced Mattresses
The late founder of Apple Steve Jobs once said, "Price does not equate to quality." Although he was referring to the iPhone as a leading innovator in smartphone technology, the same analogy can be applied when choosing your bed.
It's easy to associate quality with price but always do your best to make sure you get what you pay for. Retailers want to take your money before the competition does and will sweet talk you into believing you are investing in the best mattress in the market.
Your best defence is knowledge and that comes from reading reviews such as ours. Arm yourself with information before shopping around and do not hesitate to question the sales people as much as you want.
Be wary of companies that do not release information on the type and quality of the materials. Some of the companies in our list such as Tempur and Simmons do not release information but have built a solid reputation throughout the years.
Beds That Come with a "No Return/ No Exchange" Policy
One of the first things you should clear up before moving further along the search is if the product comes with a "no return/ no exchange" policy. You would not want to be stuck with a bed that gives you nightmares instead of sweet dreams.
It takes some time to get used to the bed. This is why some manufacturers will give a 30 day grace period before accepting a return or exchange if the bed does not meet your satisfaction.
But we did not stop there! We also included a list of the 10 worst rated beds which you should avoid. Is your bed on this list?
The fact that the market keeps introducing new types of beds with interesting technologies goes to show how much consumers value the need to get restful sleep.
If you last bought a mattress more than a year ago, some of the innovations may seem light years away or the stuff of science fiction. Imagine walking inside a store looking for a traditional firm mattress and being offered a product that can convert body heat into infrared light to improve blood flow? Sleep loss has been studied and can be attributed as this article shows.