Are you looking for IKEA bed and mattress sizes? The Swedish retail chain updated some of their mattress & bed sizes so that the mattresses will fit conventional beds and vice versa.
However most won't fit conventional beds properly. Recently IKEA have added some of their best mattresses to amazon, CLICK HERE to see them.
The good news is is that there are a ton of really good quality affordable mattresses on amazon that will fit normal beds. If you already have an IKEA mattress and are looking for a bed that will fit or you have a bed and need a mattress that will fit click on the following for the best deals:
IKEA Mattress Sizes Chart
IKEA® bed frames don't fit normal standard size dimensions exactly. However likewise a normal size bed won't fit properly as they deviate from classic measurements.
Each country has definitive name set and different IKEA mattress sizes. Some of these are the same as the Swedish retailer however with slightly different measurements.
Take a careful look at the dimensions before buying to avoid getting the wrong size! The following shows STANDARD mattress measurements side by side along with the common name for that mattress:
Ik
Full measurements compared
Here are the USA and CA standard mattress names along with the corresponding sizes. Next to this I have placed the difference against the same names at IKEA:
US Mattress Name
IKEA Name Version?
Width In Metric
IKEA Width +/-
Length In Metric
IKEA +/-
Width In Imperial
IKEA +/-
Length In Imperial
IKEA +/-
Small single
or Cot
No
76 cm
191 cm
30 in
75 in
Single, Twin,
or Bunk
Yes
99 cm
-2cm (97 cm)
191 cm
-2cm (189 cm)
39 in
-1/4 " (38 1/4 ")
75 in
-5/8 " (74 3/8 ")
Twin extra long
No
99 cm
203 cm
39 in
80 in
Small double
or Three-quarter
No
122 cm
191 cm
48 in
75 in
Double or Full
No
137 cm
191 cm
54 in
75 in
Double extra long
No
137 cm
203 cm
54 in
80 in
Queen
Yes
152 cm
The same (152 cm)
203 cm
-1cm (202 cm)
60 in
-7/8 " (59 7/8 ")
80 in
-1/2 " (79 1/2 ")
Expanded, Super,
or Olympic queen
No
168 cm
203 cm
66 in
80 in
King
Yes
193 cm
The same (93 cm)
203 cm
-1cm (202 cm)
76 in
Same (76 ")
80 in
-1/2 " (79 1/2 ")
California king
or King long
No
183 cm
213 cm
72 in
84 in
Grand king,
Super king,
Athletic King
or Texas king
No
203 cm
249 cm
80 in
98 in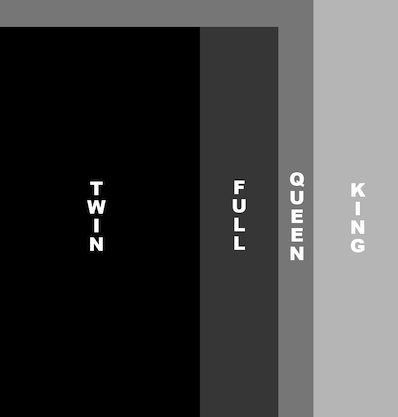 USA & Canada IKEA mattress sizes chart: how to get the right bed frame
This page focuses on mattresses available in Canadian and American shops. Click on the following to see a UK IKEA mattress and bed sizes chart.
People looking for a 'full size' or 'king size' mattress as following the standard conventional Canada and US dimension names should check the following measurements.
It's worth noting that these also apply to the futon range. As you will see the IKEA bed sizes come in twin, XL twin, full, king and queen.
If you are confused as to what this actually means in terms of measurements have a look at the following table which lays it all out for you.
This chart will give you all the US IKEA mattress names and dimensions as well as whether there is a standard US equivalent.
Side by side comparison: what the dimensions look like
A classic mistake on size comparison is the full vs double sized mattress. IKEA double bed mattress is referred to as 'twin' and a three quarter mattress from IKEA as 'full' To visualise and compare what they look like alongside each other see the following:
To make sure you don't get the wrong length and width mattress for your bed or wrong size bed for your IKEA bed mattress check out the sizes chart above.
IKEA King Size Bed vs Normal
As you can see from the above the standard bed will accommodate an IKEA king size bed. But the best idea is to look at the specific measurements of your frame or bed platform to get a great fit.
Twin XL Bed Frame & Mattresses From IKEA
If you want to put an IKEA mattress on a twin XL bed frame or buy a twin Xl mattress to fit a twin xl bed frame we will explain the dimensions and issues.
A standard twin xl mattress is 99cm in width and 203cm in length. IKEA do not do a frame that will fit this so you will either have a lot of space around the mattress or you will have overhang from the mattress on the side of the bed base.
If you are looking for the standard twin excel from IKEA they don't exist. We shortlisted some of the best that will fit, click on the links below to see them:
Cot mattresses: standard one size for all
The famous swedish retailer does indeed sell mattresses for your baby cot which are affordable, comfortable and safe.
All meet specific strict safety standards and are machine-washable so that you can easily clean up any accidents you toddler may have had such as urine in on the bed. Crib IKEA mattress sizes are standard across their entire range in the US and are as follows:
Metric measurements:
Length: 52 "

Width: 27 1/2 "
Imperial measurements:
Length: 132 cm

Width: 70 cm
IKEA full size bed mattress: how does it compare?
You may have a bed that you want to put an IKEA full size mattress on or an IKEA mattress that you want to put on it. Either way using an online retailer is the easiest way to get something that fits and delivered to your door for free!
Be careful though getting the wrong size will likely mean it won't fit. This range will:
The famous scandinavian based retailer sell mattresses that are European sized and different to normal bed proportions such as king or IKEA queen sizes mattress.
I have given you the exact measurements but your nearest European size will fit just fine. In fact if you are anywhere in the world from Canada to Hong Kong, Singapore Australia UK you will find that IKEA have standardised their measurements to European.
How wide is a standard bed?
Again we need to be clear what dimensions and proportions we are talking about. If you are taking into account the bed frame then that could be anything based on the construction of the bed.
The only real way you can do this is by going and measuring it. However if the it has no frame and is using a divan base then the table above will give you the exact width measurements since the bed frame won't protrude further than the mattress edge.
As an example have a look at the following image. You can see that the metal frame adds a bit of length on to the bed itself but there are no sides to it so the width is exactly the breadth of the mattress, the height of the mattress doesn't really matter as your room will accommodate it.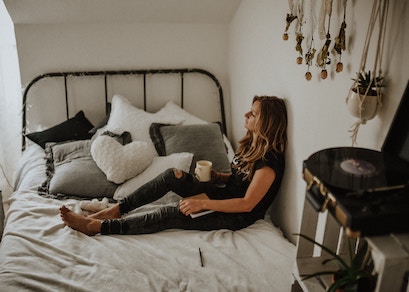 Where to buy one that will fit correctly
Many shops sell IKEA sized mattresses and beds that will fit a normal IKEA mattress. These proportions are standard within E.U. countries, often referred to as 'European mattresses' or 'continental mattress sizes.'
Likewise if you are buying a bed from the famous Swedish retailer you can use the chart to compare and check bed proportions against standard frame sizes.
Unique size names and corresponding standard
These are funny sizes so it's best to check the dimensions chart before you buy. If you are looking for an alternative retailer many online bed and mattress shops offer products and quite often with free next day delivery.
These shops will stock the corresponding dimensions of all the IKEA brand sizing such as sultan hjelmas, sultan hamnvik, sultan huglo, sultan tafjord, sultan tjome, fjordgard, sultan tårsta. Getting memory foam mattresses is often easier as the shop can cut the foam to order.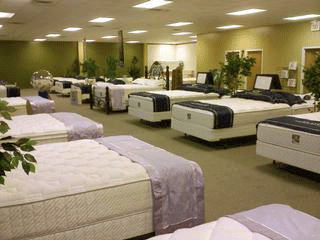 Depending on the country you are resident in the IKEA mattress proportions may be different to your local. The thickness will depend on each model and also whether a topper is applied.
Buying an IKEA bed frame that fits
Many retailers offer IKEA sized mattresses. Some people go ahead and customise their beds to fit.
As you can see from the above chart and mattress measurements guide, if you have an IKEA bed but a standard UK mattress then they won't fit exactly.
IKEA bed proportions are made to fit the European mattresses not regular UK mattresses, that said some are very close and if you don't mind it being slightly too small to the frame then you can often get away with it.
IKEA also do mattresses for extendable units, you will need to check out the individual size to see if they fit. Go to this page on their website to see the full range.
Frequently Asked Questions
Below we answer some of the most frequently asked questions about ikea bed and mattress sizes.
Are IKEA Bed Sizes Different?
IKEA beds are popular because they're a cheap, attractive option for getting your sleep space decked out in style. IKEA Single and King Size
Beds come with different measurements depending on the country of origin; however both sizes can be used interchangeably to suit any need!
IKEA single bed frames measure 200cm x 90 cm while UK singles measure 190×90 – so you'll get more floor space if you opt for an IKEA EU size bed frame over its traditional British counterpart.